----- the Promising Future of Sacha Inchi Oil
A research has shown that oils for skin care products have become increasingly popular in American high-end cosmetic market. From May 2014 to April 2015, sales amount is 585 billion dollar, with a year-on-year growth of 22%. The same happens in Europe market.
As anti-aging still remains the top priority in skin care products, consumers desire to keep them stay young and suppliers try to satisfy with them. And now, they have found a new weapon ---- Oils, an innovation on the natural specialty ingredients.
Here, we present you our new developed Plant Oils ---
Sacha Inchi Oil
---- an excellent anti-aging oil for skin care.
Sacha Inchi is a wonderfully light, low viscosity oil for greasy skin. It helps fight wrinkles and has a moisturizing effect. Most importantly, it contains around 35%~40% Linoleic acid with the following features: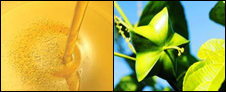 – Strong cell-regenerating
– Activates the cells
– Supports fluidizing cell membranes
– Increases skin elasticity
The anti-aging performances of Sacha Inchi Oil meet consumers' requirements and catch up with the market boom of oils for skin care. We believe that the market for it will be promising.
Please click Sacha Inchi Oil for more information.